Free Shipping on Orders Over $100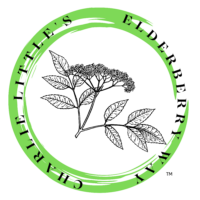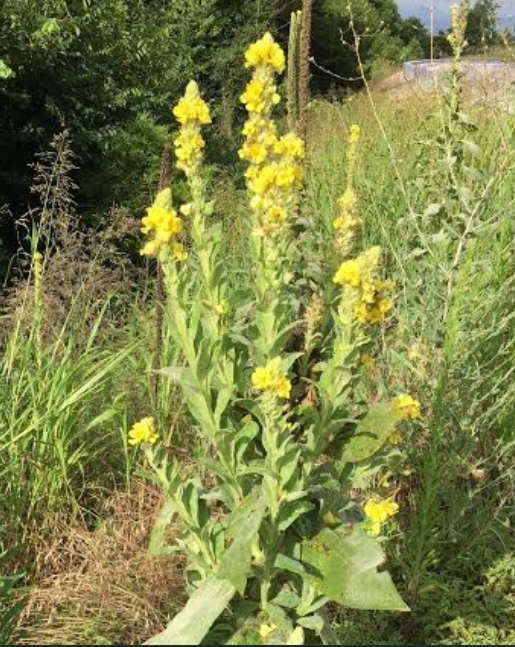 Two species of Verbascum (V) that I'm familiar with are V thapsus and V olympicum. Far as I know they are interchangeable in herbal preparations. The entire plant may be used and GRAS (Generally Regarded As Safe), except seeds which contain toxic substances to fish and mammals. The roots are reported to be most helpful for pain management but I have only used dried leaves and flowers regularly. Most Mullein species I know of are biennial, forming a rosette of leaves the first year and rising up with a flowering stalk the second, though there have been reports from various parts of the world that Mulleins are flowering on first year plants from seed. Prefers a neutral to slightly alkaline, well draining soil.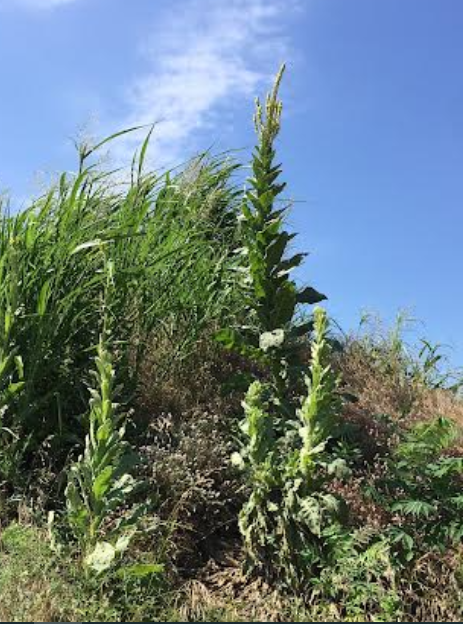 Mullein is most commonly known for being used to support lung health but there are references in PubMed studies pointing to pain management. I will include link at the bottom to PubMed search results. Besides Elderberry World, I also Admin the Mullein World Facebook Group if you are interested in joining us. V thapsus, Common Mullein or Great Mullein. Can be found growing wild on the high, dry areas. It doesn't like wet feet. Commonly forms a single flowering spike in the second year of growth, sets seed and dies. May form multiple smaller flowering spikes along the main spike, similar to V densiflorum, especially if the main flowering spike is cut or damaged.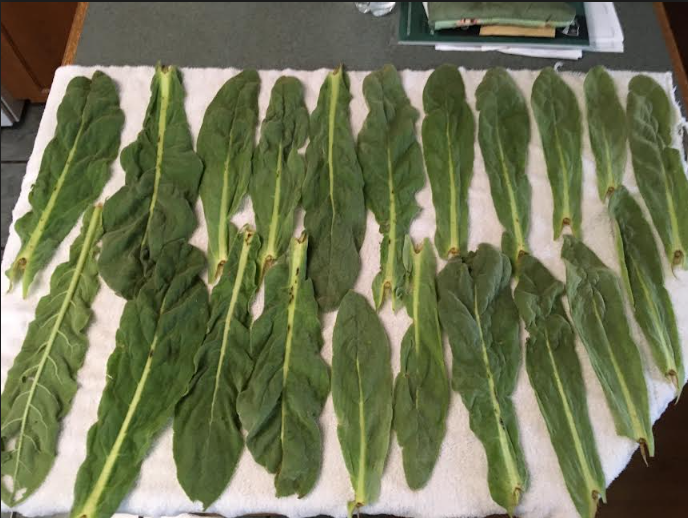 I harvest large leaves which are mostly free of dirt, brown spots and anything else that doesn't look good. They are sprayed off in my kitchen sink to remove dirt and/or bugs, set out on towels to mostly dry and placed in my indoor Hanging Herb Drying Rack to dry slowly, out of the sun. Takes about a week for them to be ready for Super Tea!
It's important to also know where to not harvest wild Mullein. Mullein is a great bio-accumulator of toxic substances. It's best to harvest them away from industrial sites, cities and roads, especially well travelled ones that were there when gasoline contained lead. Lead never goes away from where it contaminated ground. Plants take it up, plants die, lead stays unless plants are removed before decomposition. It takes very little lead to cause all sorts of bodily harm, both short and long-term. Harvest mullein and other herbs from areas out in nature or grow them yourself.
V olympicum, Greek Mullein. Has less fuzzy leaves than Common Mullein and produces multiple flowering spikes. Commonly grown for flower production. Here's a favorite YouTube video on Greek Mullein.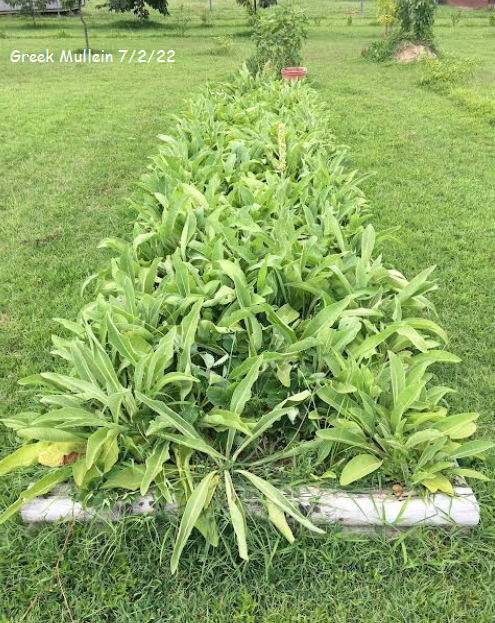 After watching that video, I was convinced I wanted to grow Greek Mullein in my back yard. I read in various places that Greek Mullein may tolerate more damp soil conditions than Common Mullein. This is good since our yard is very wet most of the year except in summer dry spells. I needed to re-do my raised bed blackberry patch anyway so all the undesirable blackberry variety I had tried to grow were removed, roots and all. A five pound bag of garden lime was added and 5,000 Greek Mullein Seeds were sown during winter by simply scattering them on the surface of the newly prepared raised bed. The seeds require light to germinate and this is how they look today, 7/2/22.
That's about all I have on Mullein for now. Will post some update photos when they bloom next year, which reminds me of just one more thing to add. Our Mystery Mullein that sprouted along with the rest of these this year is different. Not quite V thapsus and not V olympicum. It's blooming now at about 2ft height. Can you spot it in the photo above? I'm going to be sure and plant seeds from this one for next year and see if they also bloom their first year.
To learn more about Mullein, see interesting study articles by searching Google "Verbascum Pubmed"
© 2021-2023 Charlie Little's Elderberry Way. All rights reserved.